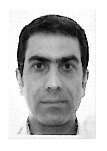 Mohammad Amin Esmaeilbeig
About Candidate
Highly proficient and skilled in technical design , procurement services and field engineering in piping and fixed equipment as well as multi discipline engineering and inspection coordination for petrochemical plants briefly as follows:
· Piping layout between process and offsite equipments based on P&ID, Plot Plan, and PMS.
·Equipment's nozzle orientation preparation. (Storage tanks, Drums, Tower…).
·Piping plan and Isometric generation.
·Piping Material specifications (PMS), Valve Material Specification (VMS), Material take off (MTO), Material Requisitions (REQ) and Technical bid analysis (TBA) documents preparation.
·Engineering standard specification (ESS), Material standard specification (MSS) and construction standard specification (CSS) preparation for a specific project. Such as hot and cold insulation specification, painting specification, Standard support specification
·Special item data sheet (DSH) preparation.
·Catalogue preparation for 3D modeling using PDMS Paragon module.
·Familiar with fixed roof storage tank design based on API 650.
·Familiar with pressure vessel design based on ASME SEC.VIII. Div1
·Familiar with centrifugal pump design based on API 610.
·Familiar with piping flexibility analysis and piping support design.
·Answering Technical queries (TQ) with vendors due to material offers.
·Documents and vendor drawings check and submit the comments to the vendors.
·Loop test system preparation for piping test packages based on P&ID and line list.
·Answering Technical queries (TQ) which are raised from executive contractors during construction level.
·Monthly report sending to the head of the head of the engineering department.
·Multi discipline engineering coordination as per a project time schedule.
·Coordination between the manufacturer and TPI.
·Providing SOI (scope of inspection) and ITP (inspection test plan).
Location